SERIE COPIES 10
Material
Um tube
Plugin Andromeda Designs
Plugin MurA's Meister Copies
Plugin Penta Dot and Cross
1.- Abrir uma imagem transparente 100x500pxs e preencher com uma cor sólida;
2.- Plugin Andromeda Designs, configuração assim: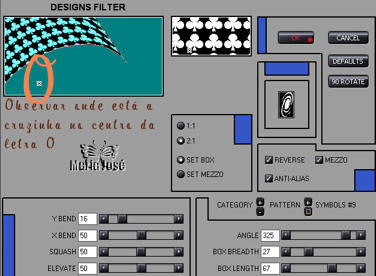 3.- Com a varinha mágica selecionar a cor sólida;
4.- Selection Invert;
5.- Effects, 3D effects, Drop Shadow, 5, 5, 60, 20, preto;
6.- Effects, Geometric Effectos, Circle, transparente clicado;
7.- Selecionar novamente a cor sólida, selection modify, expand 8;
8.- Ativar o tube, Image Free Rotate, 45,00, all layers desclicado, right;
9.- Edit copy, edit paste into selection e tirar a seleção;
10.-Image, Resize 75%, all layers desclicado;
11.-Effects, 3D effects, Drop Shadow, 5, 5, 60, 20, preto, repetir -5, -5;
12.-Plugin MurA's Meister, Copies, assim: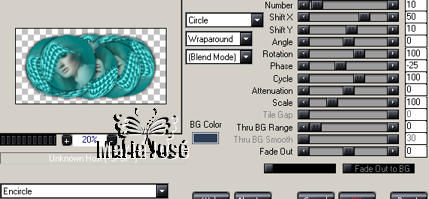 13.-Arraste a image para bem próximo ao top;
14.-Layers, add new layer, Arrange, send to bottom;
15.-Preencher esta layer com a cor mais forte do trabalho;
16.-Plugin Penta, Dot and Cross, 70, 10, 2;
17.-Dar o acabamento como mais apreciar, uma mask ou uma barra;
18.-Layers, Merge all, assinar e salvar em JPG.
Outro exemplo.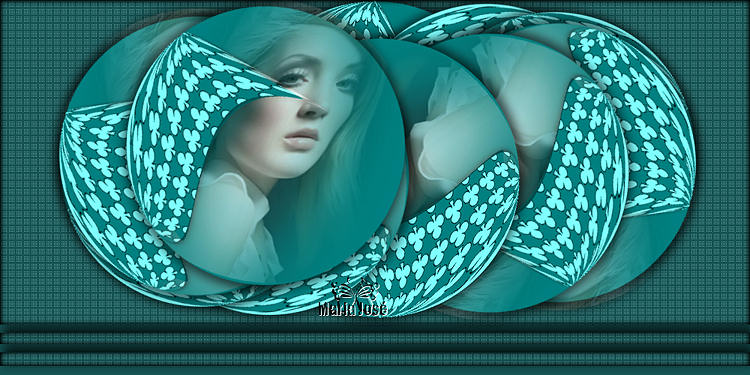 Este tutorial foi criado em 25 de março de 2007 por Maria José Prado. É protegido por lei de Copyright
e não poderá ser copiado, retirado de seu lugar, traduzido ou utilizado em listas de discussão
sem o consentimento prévio e escrito de sua autora acima declinada.