SERIE COPIES 3
Material
Um tube
Plugin MurA's Meister
Uma mask aqui
1.- Abrir uma imagem transparente 1000x500pxs e preencher com uma gradiente:
Angle 0, repeats 2, H=100, V=0, style radial;
2.- Effects, Relection Effects, Rotating Mirror, H 100, V -50, Rotation 280;
3.- Selecionar a cor sólida, deletar e tirar a seleção;
4.- Imagem Resize 75%, all layers desclicado;
5.- Imagem Mirror;
6.- Effects, Imagem Effects, Offset, H -50, V -150, Custome Transparente clicados;
7.- Effects, Distortion Effects, Twirl, Degrees -480;
8.- Plugin MurA's Meister, Copies, assim: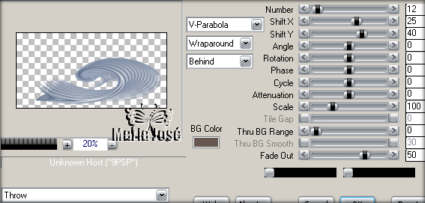 9.- Effects, 3D Effects, Drop Shadow, V 5, H 0, Opacity 60, Blur 15, preto, repetir V-5;
10.-Selection Tool, Custom Selection, assim: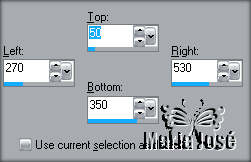 11.-Layers, Add New Layer, preencher com a mesma gradiente;
12.-Texture, Texture Effects, Weave, 3, 3, 100, cor mais escura da gradiente, Fill Gaps desclicado;
13.-Tirar a seleção e repetir o item 9 (drop shadow);
14.-Effects, Distortion Effects, Wave, H 0, 1, V 10, 50, Transparente clicado;
15.-Layers, Arrange, move down;
16.-Layers, Add New Layer, Arrange, Send to Bottom;
17.-Preencher com a cor escura da gradiente;
18.-Aplicar mask de preferência ou a aqui usada;
19.-Layers, Merge Group, drop shadow (item 9);
20.-Layer, Add New Layer, Arrange Send To Bottom e preencher com a cor clara da gradiente;
21.-Ativar o tube, copiar e colar em local de seu agrado;
22.-Mergir as layers, assinar e salvar em JPG.
Outro modelo.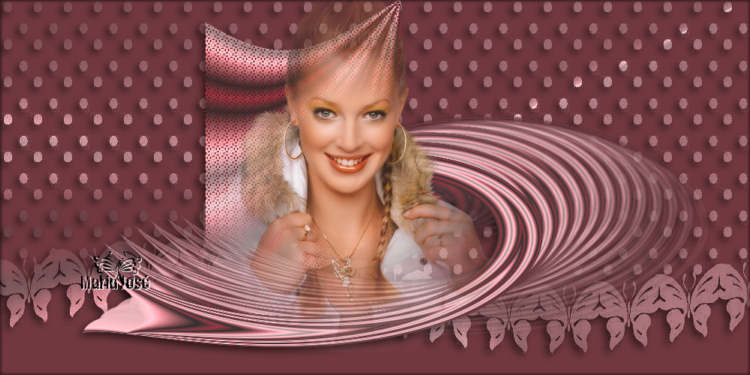 Este tutorial foi criado em 15 de março de 2007 por Maria José Prado. É protegido por lei de Copyright
e não poderá ser copiado, retirado de seu lugar, traduzido ou utilizado em listas de discussão
sem o consentimento prévio e escrito de sua autora acima declinada.