SERIE COPIES 7
Material
Um tube para decorar
Plugin MurA's
Plugin FMTools
Seleção aqui
1.- Abrir uma imagem 1000x500 transparente;
2.- Selection Load Selection from disk (aquela que você salvou);
3.- Layers Add New Layer;
4.- Preencha com a gradiente, radial, angle 180, repeats 15, H e V =0;
5.- Ativar o tube, copiar e colar dentro da seleção;
6.- Drop Shadow, 6, 6, 60, 15, preto;
7.- Tirar a seleção, layer duplicate;
8.- Image Resize 80%, all layers desclicado;
9.- Tirar a visibilidade desta layer e ativar a layer de baixo;
10.-Effects, Texture Effects, Weave, 3, 3, 100, cor mais forte da gradiente, fill gaps
desclicado;
11.-Ativar a layer do item 9;
12.-Effects, Image Effects, Offset, H -100, V 50, custom, transparente clicados;
13.-Layers, Merge Visible;
14.-Plugin MurA's Meister, Copies, assim: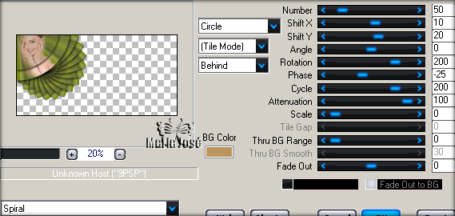 15.-Effects, Image Effects, Offset, H 500, V 0, custom, transparente desclicados;
16.-Layers, layer duplicate, Image mirror;
17.-Layers, Merge Visible, drop shadow, 6, 0, 60, 15, preto;
18.-Layers, Add new layer, arrange, send to bottom;
19.-Preencher com a mesma gradiente: radial, 180, 0, H=50, V=0;
20.-Repetir o item 10, Effects, Edges Effects, Enhance;
21.-FMTools, Blend Emboss, Edges Warp desmarcado;
22.-Escolher uma mask, aplicar, merge group, drop shadow como item 17;
23.-Layers, add new layer, arrange, send to bottom;
24.-Preencher com a cor sólida mais forte;
25.Layers, merge all, assinar, salvar em JPG.
Os itens 19, 20, 21 e 22, são opcionais, podendo ir do item 18 para o 24.
Este tutorial foi criado em 17 de março de 2007 por Maria José Prado. É protegido por lei de Copyright
e não poderá ser copiado, retirado de seu lugar, traduzido ou utilizado em listas de discussão
sem o consentimento prévio e escrito de sua autora acima declinada.