TOP ASAS
Material
Um tube
Uma mask
1.- Abrir uma imagem transparente 1000x450px;
2.- Configurar o background com uma pattern floral;
3.- Configurar o foreground com uma cor sólida de acordo com a pattern;
4.- Ativar a ferramenta Ellipse Tools:


5.- Traçar uma ellipse de 250x200px (aproximadamente);
6.- Layers, Convert To Raster Layer;
7.- Layers, Duplicate, Image resize 90%, all layers desclicado;
8.- Repetir o item 7 mais 5 vezes;
9.- Acertar as layers em cascata, assim: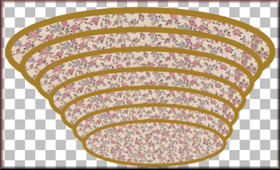 10.-Layers, Mergir visível;
11.-Arrastar a layer para o canto esquerdo;
12.-Effects, Distortion Effects, Warp, H e V=25, Size 75, Strength=-75;
13.-Com a Freehand, selecionar a imagem na parte inferior e deletar;
14.-Image, Resize 80%, all layers declicado;
15.-Acertar a imagem no top e no lado esquerdo;
16.-Layers, Duplicar, Imagem Mirror;
17.-Ajustar as imagens para que fique no centro do top e mergir visivel;
18.-Effects, 3D Effects, Drop Shadow, V=5, H=0, Opacity=70, Blur=15, Preto;
19.-Layers, Add New Layer, Arrange, Send to Bottom;
20.-Preencher esta layer com a mesma pattern;
21.-Adjust, Blur, Motion Blur, Angle=200 e Strength=100;
22.-Repetir - Angle=50;
23.-Manter ativada esta layer e aplicar a mask;
24.-Mask delete, layer merge group;
25.-Repetir o drop shadow (item18);
26.-Layers, Add New Layer, Arrange, Send to Bottom e preencha com a cor sólida;
27.-Layers mergir visível;
28.-Ativar o tube, redimensionar se for o caso, copiar e colar no top no centro;
29.-Layers, Merge all, assinar e salvar em JPG.
Este tutorial foi criado em 05 de outubro de 2006 por Maria José Prado. É protegido por lei de Copyright e não poderá ser copiado, retirado de seu lugar, traduzido ou utilizado em listas de discussão sem o consentimento prévio e escrito de sua autora acima declinada.